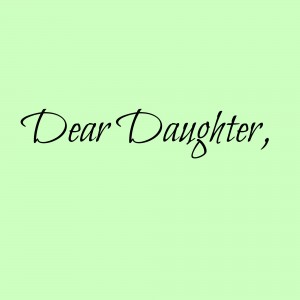 One of our assignments during the last OBS was to write a letter to ourselves from God using our scriptures from the week. I am sharing my letter again for you and for the women currently staying at the Dove's Nest in North Carolina and praying that you will read it as a letter to you from God.
Dear daughter.

Let me quiet your fears and anxious heart this morning for I truly am with you. Do not be intimidated or discouraged by any negative reports. Keep your confidence and hope in me for I am your God. I will give you strength and I will be your help. I will sustain you. I will hold you up with my victorious right hand. The battle has already been won. Because you have set me always before you, you shall not be moved. Because your eyes are on me, you can stand firm in this place. Give me your cares, (insert your name). Lay your burdens at my feet, my beautiful daughter. Release the weight of it. You were not meant to carry this. I hear your voice. I hear your cries and I will rescue you. I will deliver you from distress and trouble. My promises are certain and my Word is truth. Find rest today in me and do not be shaken. I am your God. I am Jehovah Shalom, your peace. I am Jehovah-Nissi, your banner. I am Jehovah Rapha, your healer. I am Jehovah-Shammah, I am present. I am El-Shaddai, sufficient for all your needs. I am Jehovah-Rohi, your shepherd. 
I AM. 
Rest in me.

Love,
Father
(Psalm 16:8, Psalm 55:22, 2 Samuel 22:7, Psalm 34:17, Isaiah 41:10)
************************************************************
Today I am linking with our current online Bible study Blog Hop at Proverbs 31 Ministries.  We would love for you to join us there!