We have forgotten anniversaries, fought on Valentine's Day, skipped over birthdays, and much more we are not proud of. I mean, if you've been married almost twenty-three years and have never slammed a door, gritted your teeth in frustration, or slept on the couch, pretty please with sugar on top tell us your secret.
Over the course of these twenty-three years, our love has grown but growth doesn't come without some discomfort and pain. We don't always feel love and we don't always show love but we have decided to choose love.
Love is sometimes messy and hard and uncomfortable.
Love doesn't always look like the commercials on TV or the movies on the Hallmark Channel.
1 Corinthians 13:4-7 says,
Love is patient, love is kind. It does not envy, it does not boast, it is not proud. It does not dishonor others, it is not self-seeking, it is not easily angered, it keeps no record of wrongs. Love does not delight in evil but rejoices with the truth. It always protects, always trusts, always hopes, always perseveres.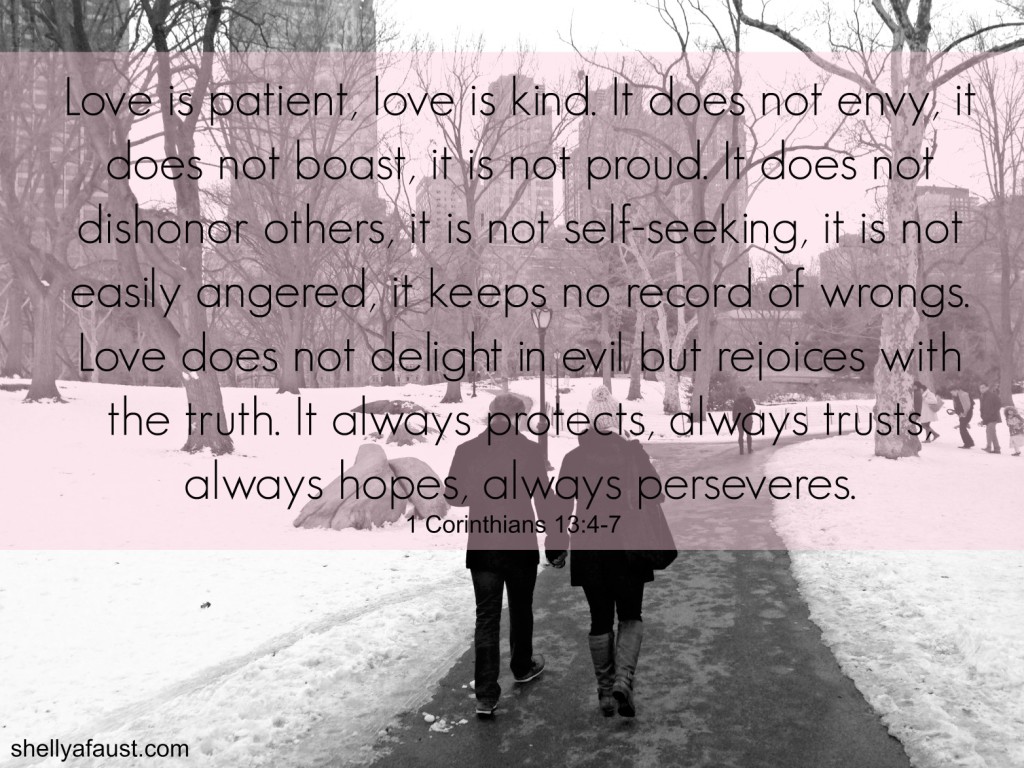 Love is decided daily, sometimes moment by moment.  Love is a choice to not give up, sometimes give in, and always give away.
True love is true. It's honest and dependable and messy.
It isn't found in a heart-shaped box. It isn't commercialized and showy or only one day a year. It gives more than flowers and balloons; it gives of itself.
We've found that we can love extravagantly in our words and actions and yes, even our inexpensive but thoughtful gifts (or notes on the bathroom mirror). We can love each other well every day.
Do we always succeed? N to the NO. We are two imperfect people trying to get it right who often get it terribly wrong.
Forgiveness and grace are some of the most extravagant gifts we can offer each other as husband and wife. Without them, there would be no "us."
But in all of our shortcomings we have discovered One who has never and will never let us down.
We have found a love that never ends. A love that always forgives. A love that loves without conditions. A love that never waivers. A perfect love matched by no other. A love that enables and empowers us to love each other and others well.
A love that reaches down into our darkest, messiest, ugliest moments and offers hope.
Maybe you feel unloved today. Maybe you have had more dark and messy and ugly days than you've had good days. Maybe you feel alone or hurt or angry or betrayed. Maybe you can't see hope for the future and aren't even sure if you want to.
First, can I say I'm so sorry? I don't know your story. I don't know the things that have happened to you or the things that have been done to you. But please, don't stop reading here. I have good news for you. Really, really good news.
Your story isn't over yet.
There's another chapter waiting to begin.
It's time to turn the page.
God loves you. He loves you more than anyone on earth ever could. He loves you no matter what you've done in the past or what you did today. He loves you no matter your social status, your education level, the number of times you've messed up, or what others think about you. I could go on and on. There is nothing that can keep God from loving you. He IS love. And He wants to lavish His love on you today. Forever and ever and without condition.
All you have to do is say yes. Receive His love. Surrender your heart and life to the One who will never leave you and never stop loving you.
Jesus has made a way for us. He paid the ultimate sacrifice on the cross for our sins so that we can walk in relationship with our heavenly Father. He has secured eternity for us if we choose to accept it.
Can we pray together today?
Dear heavenly Father,
Thank you for loving us. Help us to understand Your love and teach us to love others. We surrender our heart and our life to You today, right now. We've looked for love in every wrong place. We've tried everything and nothing satisfies or fulfills us. Fill us today with Your love and satisfy us like only You can. Thank you for Jesus and all that He has done for us. We believe in our heart and confess with our mouth right now that He is Lord. We also confess our sins to You now and believe that we have forgiveness because of Jesus. Thank you for mercy and grace and love. Thank you for saving us and never leaving us. We love You. In Jesus' name we pray – Amen.
Scriptures:
"For God so loved the world that he gave his one and only Son, that whoever believes in him shall not perish but have eternal life." John 3:16
"Your love, Lord, reaches to the heavens, your faithfulness to the skies. Your righteousness is like the highest mountains, your justice like the great deep. You, Lord, preserve both people and animals. How priceless is your unfailing love, O God! People take refuge in the shadow of your wings." Psalms 36:5-7
"For I know the plans I have for you," declares the Lord, "plans to prosper you and not to harm you, plans to give you hope and a future." Jeremiah 29:11
"Because of the Lord's great love we are not consumed, for his compassions never fail. They are new every morning; great is your faithfulness. I say to myself, "The Lord is my portion; therefore I will wait for him." The Lord is good to those whose hope is in him, to the one who seeks him;" Lamentations 3:22-25
"This is how God showed his love among us: He sent his one and only Son into the world that we might live through him. This is love: not that we loved God, but that he loved us and sent his Son as an atoning sacrifice for our sins." 1 John 4:9-10
"The Lord your God is with you, the Mighty Warrior who saves. He will take great delight in you; in his love he will no longer rebuke you, but will rejoice over you with singing." Zephaniah 3:17
"But because of his great love for us, God, who is rich in mercy, made us alive with Christ even when we were dead in transgressions—it is by grace you have been saved." Ephesians 2:4-5
"Give thanks to the God of heaven. His love endures forever." Psalms 136:26
"For I am convinced that neither death nor life, neither angels nor demons, neither the present nor the future, nor any powers, neither height nor depth, nor anything else in all creation, will be able to separate us from the love of God that is in Christ Jesus our Lord." Romans 8:38-39
"I pray that out of his glorious riches he may strengthen you with power through his Spirit in your inner being, so that Christ may dwell in your hearts through faith. And I pray that you, being rooted and established in love, may have power, together with all the Lord's holy people, to grasp how wide and long and high and deep is the love of Christ, and to know this love that surpasses knowledge—that you may be filled to the measure of all the fullness of God. Now to him who is able to do immeasurably more than all we ask or imagine, according to his power that is at work within us, to him be glory in the church and in Christ Jesus throughout all generations, for ever and ever! Amen." Ephesians 3:16-21