I know I've been quiet here. I do that sometimes when I'm having some feelings I'm not quite ready to share or sure if I should even share them at all. But today, I'm diving in.
I hope that's okay?
And if you need to dive in here, too, I would love to have the company. You know, sit across this cyber table with a friend and feel these feelings together? Maybe say a lot of "me, toos" and "I know, girl" and grab a sugar-free mocha or Coke Zero?
I would really like that.
Because I cried today.
I'm sure my tears joined a pool of other mamas as you all sent your kiddos back to school, too. But it's been a whole year since Logan has been to public school since I home-schooled last year. And I guess that's part of the reason for these feelings. I'm not quite sure what to do with them.
Part of me feels like I failed. And I totally did in many areas. And the other part of me is high-fiving myself saying Woo-hoo, you survived a whole year of home-school and you're still here to blog about it (because some days I wasn't quite sure I would – like the day my ten year old locked himself in the bathroom and refused to come out).
And then I feel sad again and then guilty and then I remind myself of all the reasons why I don't have to carry guilt or feel sadness and that helps a little. And then I wonder Did I make the wrong decision? and Well what in the world do I do now? and How do I do that? and I think to myself That just doesn't seem possible. Can you see how this conversation is going? This is why I totally needed my girlfriends. I love my hubby but he does not always love this kind of conversation. Like never.
So I mopped and did laundry and made beds and cleaned out the refrigerator and now I'm going to start on the flower beds around the front porch. You know how it goes. We busy ourselves to avoid feeling sometimes. I hate it when I do that (except my house gets really clean and I do love that).
That's why I decided to take a break and spill here. And then just hit publish without even editing.
Real life, messy, unedited conversations are good for the soul.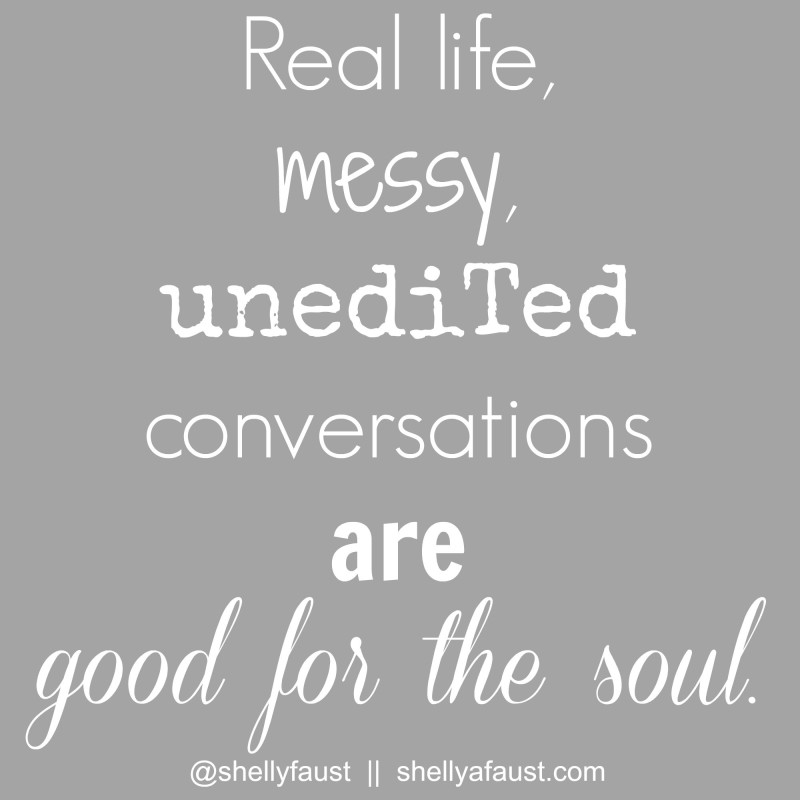 So I thought maybe I would use all these feelings to do some digging and uncover more than just the issues with this home school thing. I think there's a lot more. Like this whole new season I'm entering (this whole new season I'm being dragged into).
Anyone else have a hard time with change? With moving out of your comfortable places and into uncertain, unfamiliar territory? Or having some doubts and anxieties about what was and now what will be?
See how obvious it is that this is about so much more than home school?
I thought so.
Maybe we can continue this talk over this next month and get some things handled together?
I promise not to ramble so much and for sure I'll do some editing.
I even did a little organizing and made my first editorial calendar this weekend (thanks to Suzie Eller and Compel Training). I picked a theme for September (actually the theme picked me and in a minute you'll see it and nod your head, I'm sure) and I'll write about it twice a week. I even sent some of you a questionnaire and survey form and you were so kind to respond so thank you for that. I was amazed at how similar our answers were. We are all very much alike and that's comforting to me.
More proof that us girls need to stick together (or at least have an occasional coffee date and feel all these feelings together).
Our theme for September will be A New Season – hashtag #anewseason (look at me getting all fancy with a coordinating hashtag). Some of our conversations will look like this:
How to Recognize When an Old Season Ends and a New Season Begins
How to Move Forward When You Feel Like a Failure (ahem, hello home-school, ETC)
Birthing a New Season: The Pain of Transition
Overcoming Fear and Anxiety in a New Season
Breaking Up With Comfortable
The "Perfect" Enemy: Letting Go of Perfection
When Friends Don't Go With You Into a New Season
Five Things That Keep You Stuck in a Old Season
How to Help Others Succeed in Their New Season
Some of those titles may change a little, but you get the general idea, right?
I'm also working on some things for a women's conference I'll be speaking at in Canada the last weekend of September so we may chat about that, too. Or maybe I'll send out another survey or questionaire. Let me know if you'd be interested in brainstorming some ideas with me and I'll add your email to my list.
Also, if you haven't signed up to receive my blog post updates in your email and you want to, you can do that at the top right hand corner of this page.
One last thing.
I'm extending a giveaway I started on Periscope this weekend (because zero people entered and well, I need someone to enter so that I can have a drawing). If you leave a comment here or on Facebook or sign up for my email list or share on social media (be sure to let me know you did so I don't miss it), you'll be entered once for each for a chance to win these amazing, heir-loom quality, probably-should-get-insurance-because-they're-so-valuable -reminder to pray and pause – rocks (aka Logan brought these to me from the river behind my house and I whipped out my paintbrushes and got busy and they cost $0.00 but they are cute).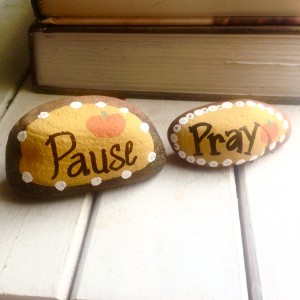 If you read all the way to the bottom of this very long, rambling post, thank you for hanging in there.

Now, let's chat:
Did you send your kiddos off to school today or recently? Home-school, public school, private school?
Are you clinging to an old season or wrestling with a new season?