(We are in the middle of our September series, A New Season. Please feel free to go back and review any of our previous posts.)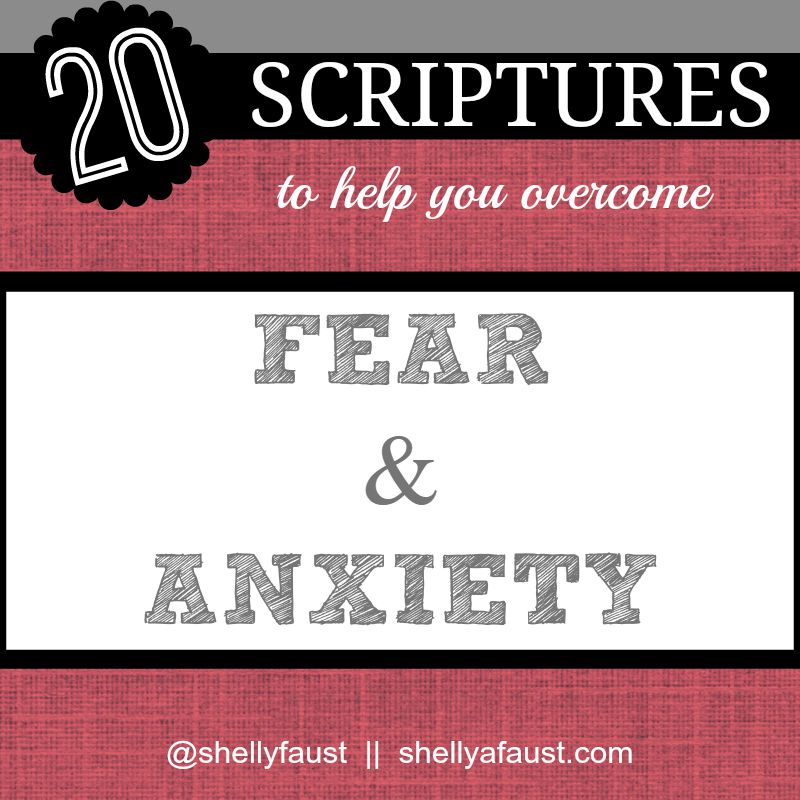 Fear and anxiety seem to be two of the most common struggles we face when moving out of an old season and into a new season (or at any other time in our lives). These unwelcome adversaries are robbers of destiny and purpose. They have the potential to paralyze progression and lock us into a place of suffocating panic, worry, and defeat.
I have struggled with fear my whole life. As a child, I buried my body under a pile of blankets at bedtime because I was certain whatever was lurking under my bed or in my closet was waiting for the perfect opportunity to get me. In Middle School I stood in front of my eighth grade speech class in full-blown panic mode more than once. In my 20s and 30s, I sat in bed many nights with the crushing weight of anxiety on my chest certain I was having a heart attack. As a young wife, I was consumed with anxious thoughts of my husband being in an accident if he was late coming home from work. As a mother of teenagers, those same anxious thoughts would reemerge if my newly licensed kids didn't immediately answer or return my phone call. I shared last Friday how I put off getting my passport for YEARS because I was afraid of what God would ask me to do next. Sadly, I could go on and on with this list. Can anyone else relate?
Fear and anxiety are no joke. They can sit us down on the bench or take us out of the game completely.
BUT.
When we arm ourselves with the Word of God, we can rest confidently and securely in His power and strength, even when ours fails. We don't have to be afraid. We don't have to live with anxiety and wrestle with anxious thoughts. We can walk in boldness and sleep in peace. We can speak, write, sing, go and do whatever task or assignment is before us. We can live without fear or dread of tomorrow.
Here are twenty of my favorite scriptures for overcoming fear and anxiety:
"For God has not given us a spirit of fear, but of power and of love and of a sound mind."
2 Timothy 1:7 (NKJ)
"Fear not, for I am with you; Be not dismayed, for I am your God. I will strengthen you, Yes, I will help you, I will uphold you with My righteous right hand." Isaiah 41:10 (NKJ)
"Have I not commanded you? Be strong and of good courage; do not be afraid, nor be dismayed, for the Lord your God is with you wherever you go." Joshua 1:9 (NKJ)
"Peace I leave with you; my peace I give you. I do not give to you as the world gives. Do not let your hearts be troubled and do not be afraid." John 14:27 (NIV)
"Even though I walk through the valley of the shadow of death, I fear no evil, for You are with me; Your rod and Your staff, they comfort me." Psalm 23:4 (NASB)
"Cast all your anxiety on him because he cares for you." 1 Peter 5:7 (NIV)
"The Lord is my light and my salvation; I will fear no one. The Lord protects me from all danger; I will never be afraid." Psalm 27:1 (GNT)
"Be strong and courageous. Do not fear or be in dread of them, for it is the Lord your God who goes with you. He will not leave you or forsake you." Deuteronomy 31:6 (ESV)
"God is our refuge and strength [mighty and impenetrable], A very present and well-proved help in trouble." Psalm 46:1 (AMP)
"When I am afraid, I will put my trust and faith in You." Psalm 56:3 (AMP)
"Do not be afraid of them; the Lord your God himself will fight for you." Deuteronomy 3:22 (NIV)
"Fear of man will prove to be a snare, but whoever trusts in the Lord is kept safe." Proverbs 29:25 (NIV)
"The Lord is my light and my salvation— so why should I be afraid? The Lord is my fortress, protecting me from danger, so why should I tremble?" Psalm 27:1 (NLT)
"Even when I walk through the darkest valley,I will not be afraid, for you are close beside me. Your rod and your staff protect and comfort me." Psalm 23:4 (NLT)
"Fear not, for I have redeemed you; I have called you by your name; You are Mine." Isaiah 43:1b (NKJ)
"Whenever I am anxious and worried, you comfort me and make me glad." Psalm 94:19 (GNT)
"Peace I leave with you; my peace I give to you. Not as the world gives do I give to you. Let not your hearts be troubled, neither let them be afraid." John 14:27 (ESV)
"The angel of the Lord encamps around those who fear him, and he delivers them." Psalm 34:7 (NIV)
"He will cover you with his feathers. He will shelter you with his wings. His faithful promises are your armor and protection. Do not be afraid of the terrors of the night, nor the arrow that flies in the day. Do not dread the disease that stalks in darkness, nor the disaster that strikes at midday. Though a thousand fall at your side, though ten thousand are dying around you, these evils will not touch you." Psalm 91:4-7 (NLT)
"And I am convinced that nothing can ever separate us from God's love. Neither death nor life, neither angels nor demons,[a] neither our fears for today nor our worries about tomorrow—not even the powers of hell can separate us from God's love." Romans 8:38 (NLT)
There are many more scriptures that address these struggles and any others you might be facing. This is certainly not meant to be an all-inclusive list. Hopefully, though, it is enough to get you excited about the Word of God and make you want to open your Bible for yourself.

Let's chat:
Have you ever struggled with fear?
What one scripture can you hold onto today that will help you move forward in confidence, boldness, and peace?
Let's pray:
Heavenly Father, Thank you for loving us and caring for us. Your Word says that we can have peace – not as the world gives – but as only You can give. Your Word also says that we don't have to be afraid. We can give you our anxieties and cares and trust that You are in control of all things. But sometimes it's hard. Sometimes it feels overwhelming and scary. Help us. Empower us as we arm ourselves with the truth of Your Word. Increase our desire and hunger to know You more. Make us brave and courageous to do what You've called us to do and go where You've called us to go. Let our lives be a testimony of Your goodness, grace, love, and power. In Jesus' name we pray, Amen.