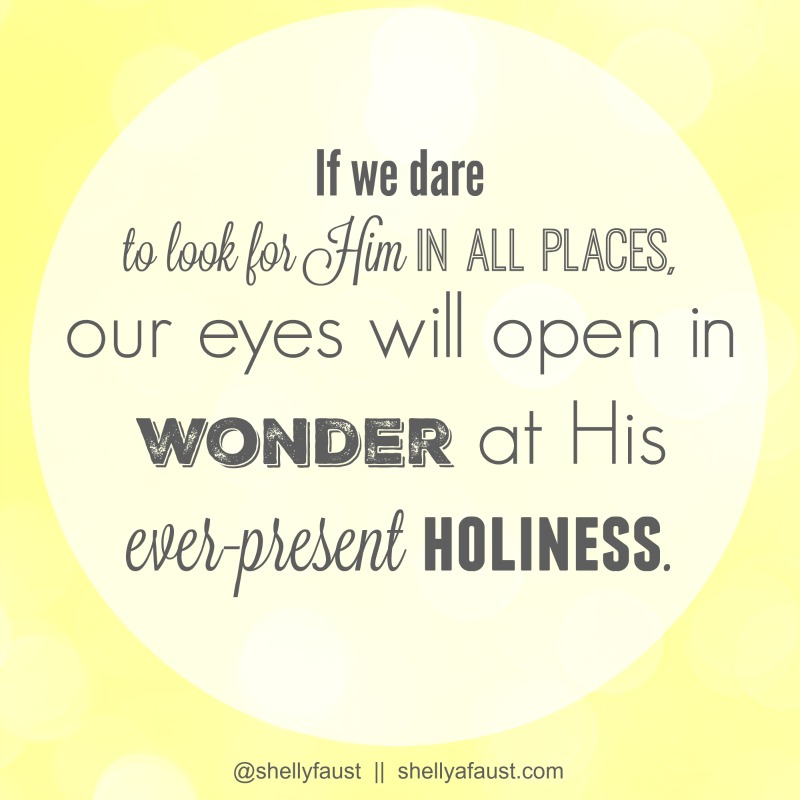 Hi friends.
September and October brought the loss of two precious family members for us: my Granny (who – at 97 almost lived forever but still not nearly long enough) and my Aunt Charlotte (who received her healing of lung cancer in heaven). We miss them DEEPLY. My mom lost her mother and her eldest sister within a span of six weeks. Our hearts ache with raw emotion and tears still come without invitation.
The other day we were discussing my September series, A New Season, and my mom mentioned something she had read recently. It suggested that every change of season happens at the loss or gain of relationship. That every time someone enters or exits our lives – by death, divorce, broken fellowship – we are forced into a new place. That life as we knew it – at least in part – ceases to exist. The loss of these two beautiful women has definitely initiated and forced change in our family. We begin a new season without them until at last we too walk into our final season when we'll most definitely be reunited. Oh what a glorious day that will be.
I'm once again reminded of the brevity of this earthly life, the importance of every single now moment, the even greater importance of investing in eternity, the need to steer clear of ridiculous and trivial controversy and public debate, the responsibility to keep my heart free from offense and the burden to love generously.
During September and October I also traveled outside of the U.S. twice. Once to Canada, which we talked about HERE and HERE, and then to the Bahamas on the Duck Dynasty Cruise where I reunited and served with my beautiful Premier Hospitality Team. I'll post some fun pictures soon.
So my plan to write a new series for October (which I announced here) just never happened. Sorry about that!
I've decided to take the rest of this year slowly here on the blog, seek God for direction on some personal things, listen closely, pause in ordinary moments, scoop up my family and hold them even closer in this holiday season, and love extra-extravagantly in my real life relationships.
Because no matter how many times we stop and start again, evaluate and re-evaluate, focus and refocus, it seems we can always stand to do it one more time (or ten thousand).
In my last post, we talked about seeing God in all places. We discussed how God doesn't wait to meet us in the sanctuary on Sunday mornings, but He builds a temple within us and meets us wherever we are.
I'm so thankful He continues to meet me right here where I am today. In the middle of loss, unfinished blog posts, questions, and some desperate seeking.
I know wherever you are today, He's there with you, too.
And we said that if we dare to look for Him in all places, our eyes will open in wonder at His ever-present holiness.
But how do we do this?
How do we look for and find Him in all places?
How do we recognize His presence and discern His voice?
Because that can sound like a big, unreachable, super-spiritual goal, huh?
We have a knack for complicating most everything.
The truth is it doesn't have to be hard or complicated or unreachable.
Just like we have physical senses that help us discover and relate to the physical world around us, we also have spiritual senses that help us discover and respond to a spiritual God.
I love the story of Elisha and his servant in 2 Kings 6. A great enemy army surrounds the city in the middle of the night in search of Elisha . When Elisha's servant wakes up early the next morning, he is terrified at the sight of this multitude of horses and chariots that has been sent against them, and he asks Elisha what they're going to do.
Elisha responds, "Do not fear, for those who are with us are more than those who are with them" (verse 16).
He's obviously seeing something his servant isn't seeing.
Then Elisha prays, "Lord, I pray, open his eyes that he may see" (verse 17).
Elisha didn't pray for God to give his servant eyes, He asked for God to open his eyes. He already had the tools he needed to see God's provision and protection, but because he was focused in on the enemy he could only see what fear magnified.
Totally sounds like something I do sometimes.
Why could Elisha see into the unseen spiritual realm but his servant could not? Why did Elisha have hope when facing such great opposition while his servant was on the verge of an anxiety attack?
Could Elisha's seeing the provision of God have originated from a place of abiding with God?
My own personal experience screams a resounding yes.
There is a spiritual reality often contrary to what we see in the natural. Our feelings don't always line up to what we know as truth nor do our circumstances always look like victory. Just like Elisha's servant, we can be blind to God's protection and provision and find ourselves in a panic when we put our faith in anything other than Him.
But when we live our lives up close and personal to and hidden in this God who isn't limited by what we feel or what can be seen in the natural, we can walk boldly in the understanding that those who are FOR us really are greater than those who are against us.
And we can respond accordingly.
Learning to recognize and abide in His presence creates space to rest, even when faced with opportunities to worry. It causes our spiritual eyes to see and understand Kingdom truths no matter the enemy surrounding us.
There is power in seeing. Super-natural power.
Super power? You mamas know we need some super power.
If we want the power, we must pursue the Presence.
Open our spiritual eyes, God. Help us to SEE You and Your great army when we are tempted to focus on the enemy surrounding us. Increase our faith. Stir our desire. Awaken our passion for You. In Jesus' name, Amen.