We got the call this week that Aunt Helen (from my husband's side of the family) passed away. So we packed up Wednesday evening and drove to Louisiana.
I also attended a memorial service on Sunday and we have another funeral back home on Saturday.
The past few years I think I have seen more death and felt more grief than in my whole life.
Death is not something any of us get to escape. The time will come for each of us to breathe our last breath here. Just as we were born, we too will die. The Bible tells us in Ecclesiastes 3, "There is a time for everything, and a season for every activity under the heavens: a time to be born and a time to die . . ."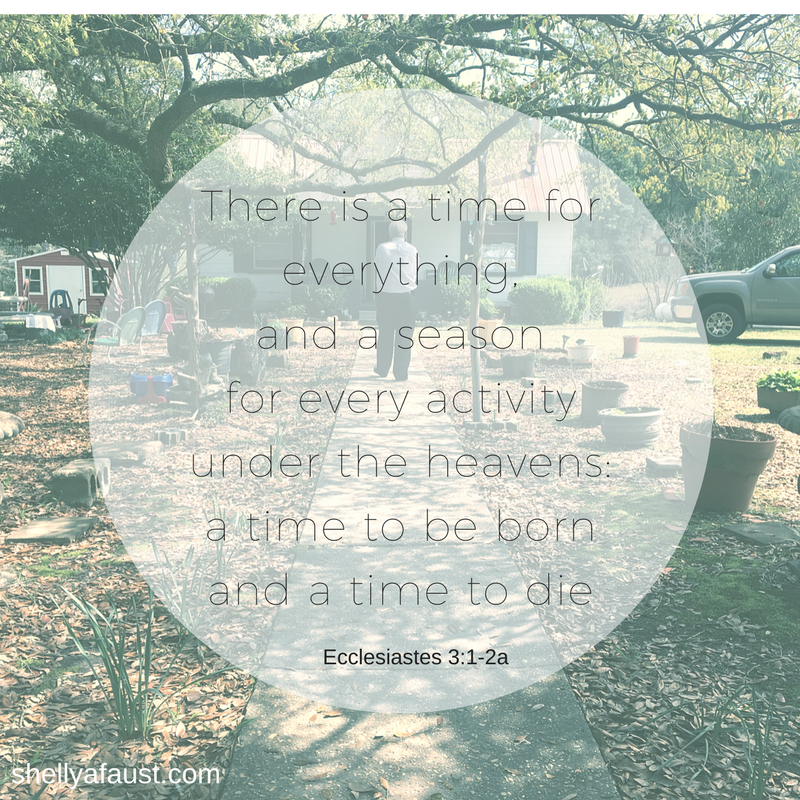 As Christians, we take comfort in knowing that breathing our last breath here means awakening in the presence of our Savior Jesus. When God created man, He breathed life into him. He formed his body and then breathed into him His life-giving spirit, the very soul of man. So when we die, our breath of life -our soul- returns to our Creator.
Jesus tells us, "I am the resurrection and the life. He who believes in Me, though he may die, he shall live" (John 11:25).
Because of Jesus, we can look ahead with confident assurance that when we leave this temporary dwelling place we will live forever in heaven. And we can find a measure of comfort in knowing we will be reunited with our loved ones who go before us.
But what about now? What about these minutes between our being born and breathing our last breath?
How are we using this gift of living? Are we stewarding this God-breathed life well?
Am I?
Are you?
Facing death certainly causes one to reflect and evaluate. At least, that's what it does for me.
I want my life to be a reflection of God's goodness on earth – of His grace, His mercy, His love. But often my life – my attitude, my words, my thoughts, my actions – reflect this old, temporary and fallen world.
Romans 12:2 says, "Don't copy the behavior and customs of this world, but let God transform you into a new person by changing the way you think. Then you will learn to know God's will for you, which is good and pleasing and perfect."
The good thing about having a blog is I can write whatever I want to write here (that can also be a not-so-good and very scary thing). It's an online journal of sorts (using discretion and wisdom in sharing, of course). I think I forgot about that part for a bit, the daily, weekly or monthly sharing of real life, raw and unedited. We (I) can work myself into a tizzy trying to write the perfect article or construct the perfect quote to garner the most likes and comments. Today I'm weary of striving and popularity and (mostly self-imposed) pressure to fit in.
I also understand the responsibility of using my gifts and talents with excellence. As a writer, that includes being savvy in words and marketing and yes, even social media. As a business owner, that includes being savvy in all of that plus business and finance and more.
So how do we take all these things we've been given, all the various pieces that make up our individual lives, and use them to display God's goodness on earth? How do we use these minutes between life and death the way God intended them to be used? How do we keep our motives and attitudes and heart pure?
We start with Him. He is always our starting place. When everything we do originates from the place of His presence, from a heart and life surrendered to Jesus, our lives can't help but be a testimony of grace and mercy. Does it guarantee a life untouched by tragedy? No. Does it promise happiness without heartache? No.  Does it guarantee grace and mercy and companionship to help navigate the tragedy and heartache? Yes. Does it promise hope when all feels hopeless or light in the darkness or forgiveness when we make a mess of things? Yes and yes and yes.
We don't have to wait until we get to heaven to live a transformed life. In fact, we mustn't.
So some questions to myself today in this raw and (mostly) unedited blog post that started in a hotel room in Louisiana and is being finished in the car somewhere between Baton Rouge and Beaumont, is how can I be a better steward of my life? How can I make the most of these minutes I've been given? What needs tweaking? What needs letting go? What do I need more of and/or less of?
When we ask these questions and then position ourselves to listen by getting still and quiet, my experience has been God speaks.
God speaks . . . and then we get to choose to obey or to not obey.
We're all going to leave our fingerprints on this world. I want mine to speak to future generations of God's goodness and point others to hope, mercy, grace and life eternal. I bet you do, too.
So thanks for hanging in here with me til the end of my ramblings this morning. I'm thankful for my readers, for my friends, my family. And right now my heart is a little more tender towards this gift of relationship and a lot more aware of how precious these moments are.
Are you feeling loss today? Are you feeling hurt or hopeless? Are you unsure of where you'll be tomorrow if you breathe your last breath today?
Leave a comment or send me a private email. I would love to pray for you.
Love,
Shelly
For God so loved the world that he gave his one and only Son, that whoever believes in him shall not perish but have eternal life. (John 3:16)

We have this hope as an anchor for the soul, firm and secure (Hebrews 6:19a)

Many are saying of me, "God will not deliver him." But you, Lord, are a shield around me, my glory, the One who lifts my head high. I call out to the Lord, and he answers me from his holy mountain. I lie down and sleep; I wake again, because the Lord sustains me. I will not fear though tens of thousands assail me on every side. (Psalms 3:2-6 NIV)

You are like light for the whole world. A city built on a hill cannot be hid. 15 No one lights a lamp and puts it under a bowl; instead it is put on the lampstand, where it gives light for everyone in the house. 16 In the same way your light must shine before people, so that they will see the good things you do and praise your Father in heaven. (Matthew 5:14-16 GNT)