So, it's Monday and time for another installment of #anewseason right here in my little corner of cyberspace. But since I didn't write and schedule today's post before I left for Canada, this little update will have to do for now.
God has a way of going before us and arranging things without us even knowing what's happening. I suppose that's why He is God, and we are not. He's sees the big picture, the whole story. I'm usually trying to make sure I'm on the right page.
When I planned this series a couple of months ago, I knew I would be traveling to my first international speaking event but I didn't really consider the impact or timing of what God would speak here to ME through these words. I know, I know, I thought all this was for you, too, but turns out, it's for me. You just happen to be here 😉
I do hope, of course, that somehow you have discovered some nuggets of truth or heard the Holy Spirit whisper some words to your heart as you joined the conversation this month. (And if you have, I would love to hear about it!)
Right at this very moment, I'm in the middle of my trek home. I flew from Ft Saint John to Calgary, where I am now waiting to board my flight to Houston.
I have so much to process when I get home.
I did want to share one thing, though, while I had a moment.
Since I promised to be transparent and embrace the scary place of vulnerability (because how else can God really use our stories, right?) I have a confession to make.
I was thinking just this morning about how it's (mostly) easy to write about stepping into unknown territory and being brave and entering a new season. You feel brave and type these words and sometimes others are inspired and encouraged at the bold use of sentences and paragraphs formed and published with just a tap tap of the finger.
And how it's a bit harder to step on the plane and cross international borders and sit alone in an airport lobby hoping you can find an empty place to charge your phone.
And how somewhere in the middle of it all and again at the end of this impossible-made-possible assignment you don't really feel as brave and your courage feels all used up.
And you wonder if you could do it all again? If you could leave your family and risk vulnerability and face your fears and embrace impossible and hard.
Transparency, remember?
So this morning a two year old named Zane asked me to read him a story. Right there in the middle of my moment. The moment my courage felt all used up and I started wondering.
So I pulled him into my lap and we settled in for some reading.
And God gently whispered for the ten thousandth time,
It will all be okay.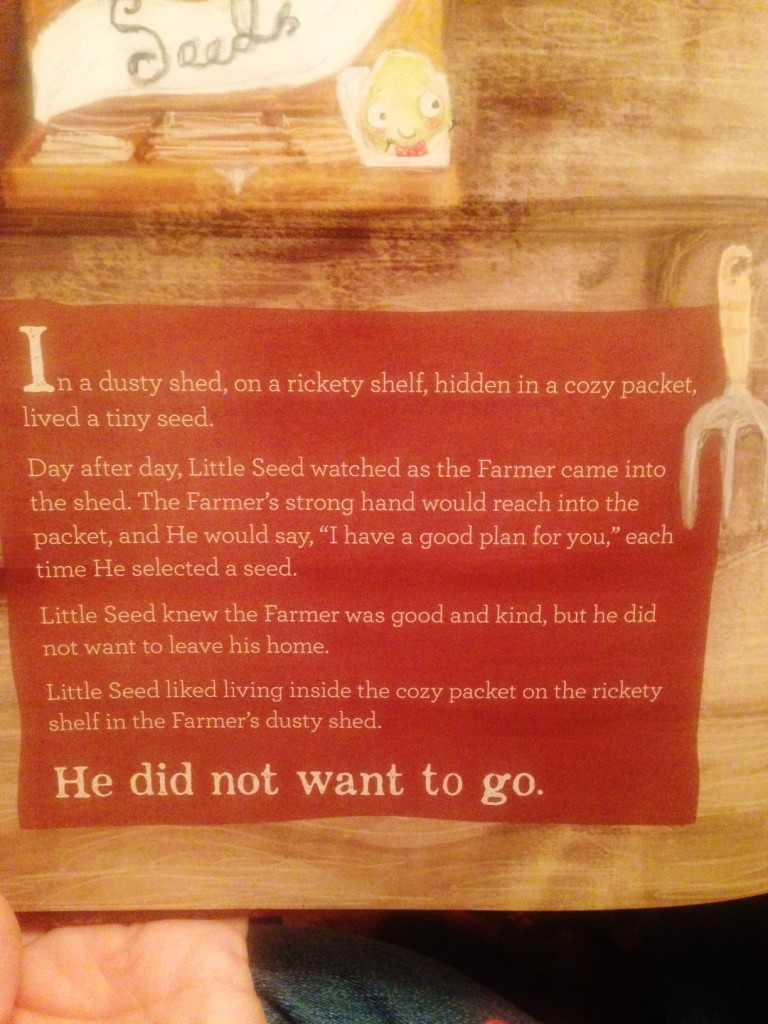 Because even when I don't want to go and my courage feels small, He sees me. And His plans are much better than mine could ever be.
And even when it feels scary (whatever it is), He takes good care of me.
And guess what? He takes good care of you, too.
And if you haven't read this book? You should. It's for kids, but it's for grown-ups, too. Obviously.
Thank you, Lysa. For this and a million other things.
For those of you joining me in this month's series, #anewseason, I'll be back Wednesday with a wrap up and an announcement about what's next. You have been good company.
I'm off to the friendly skies once again, next stop Houston.
Family, I'm coming home.